More 21st century newsroom ideas: the Google Newsroom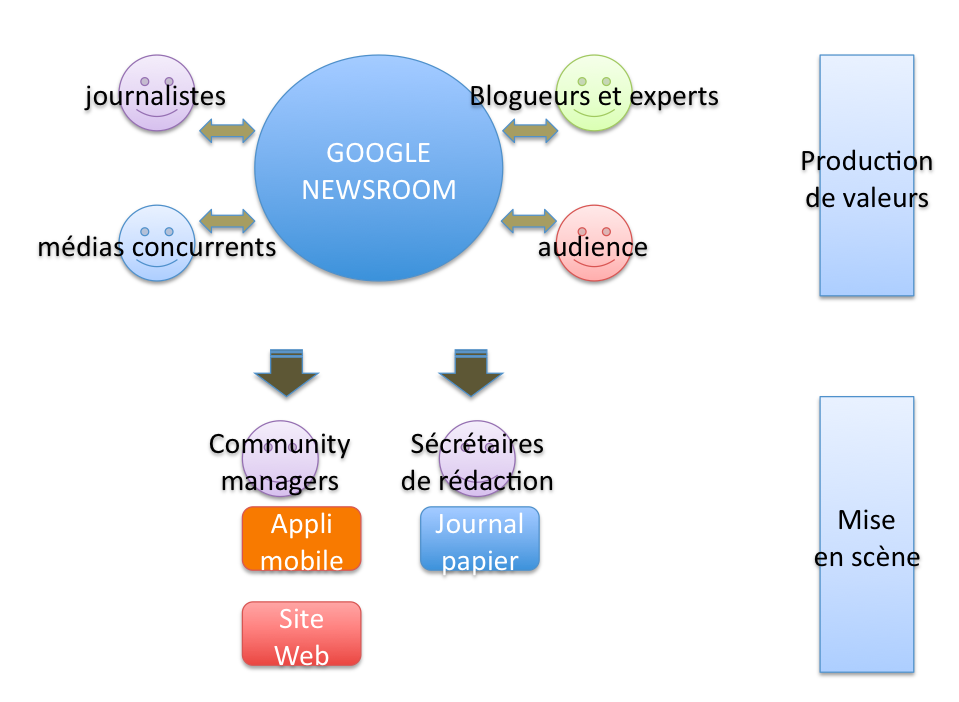 Here's a new contribution to the 'Model for a 21st Century Newsroom' concept: the Google Newsroom, by Benoît Raphaël. Based on his experience as editor in chief at Le Post, Raphael makes a number of salient points about reorganising the newsroom in a digital age. He suggests that "we have to forget that old idea of merging newsrooms" and create "one "where everything happens," that is to say on the web. This is the heart of information system. The rest is just appearance."
"At LeMonde.fr, print articles represent 30% of production, but less than 15% of traffic. You can not just write and redirect to a pipe. To produce content you have to take an evolving environment into account.
"Journalists become schizophrenic [when you ask them to write for print and web]. They become "bi-media" and feel they are bi-working, which for them means "twice"."
Raphael says the newsroom must make a distinction between roles of creation-based journalism and those of curation-based journalism.
"Your 80 journalists are gathered into 10 business units, ie in thematic clusters. Just as an independent media (which could be branded in another way) managed (or not) by a cluster manager, around which you can gather 8 journalists, bloggers, a community + 1 marketing + 1 sales officer (they can work on multiple clusters). Each cluster can also have its copy editor and its associated community manager.

"In each cluster, we will produce creation-oriented journalism. The driving question must be: since everyone covers approximately the same information on the network, what is my added value?"
In addition, there are super copy editors working on taking the content and making the print product work to its high resolution visual strengths.
It's a considered approach to the evolving newsroom that turns print-centric operations on their head. People will point out that print is responsible for most of the revenue, but there's a point to be made here: it doesn't actually mean it should account for most of expenditure. After all, travel supplements are more lucrative than war coverage, but that doesn't mean you hold back from spending a disproportionate amount of money on the latter.
Since most news organisations are turning to a web-first strategy, it makes organisational sense that the 'rewriting' happens for the print or broadcast edition (in this case by the super copy editors), not the other way around. But as Raphael points out: "You tell me: will your 80 journalists be able to go on the web? In most newsrooms, the "web level" is close to zero. What is [stopping this happening] is bi-media schizophrenia."
Thoughts?
You can also find the original article in French along with a reaction by Mikiane from France24